The story so far....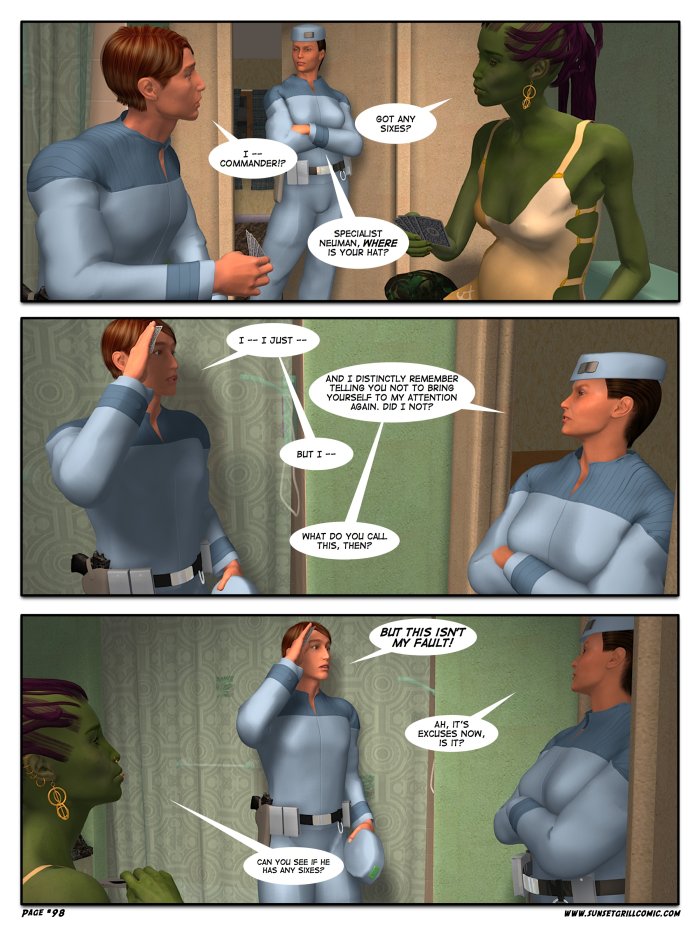 All comics were made using DAZStudio and ComicLife. For a full list of credits, click here.
show/hide today's script
Ria
: Got any sixes?
Travis
: I -- Commander!?
McMillian
: Specialist Neuman,
where
is your hat?
Travis
: I -- I just --
McMillian
: And I distinctly remember telling you not to bring yourself to my attention again. Did I not?
Travis
: But I --
McMillian
: What do you call this, then?
Travis
:
But this isn't my fault!
McMillian
: Ah, it's excuses now, is it?
Ria
: Can you see if he has any sixes?
When last we saw... Ria - Travis - McMillian


April 1, 2009
The good part about being a military officer: always having minions to take out your bad mood on.

Sorry this went up so late in the morning. I worked an 11-hour day yesterday and spent far too much of Monday rescuing my idjit escapee bird from a tree. And yes, I realize it's April Fool's but I'm far too tired to do anything clever for it.

Scar Night
by Alan Campbell
Dill is the last of his line, an angel forbidden to fly. Rachel is half an assassin. Both serve the Chained God -- but is the church all that it seems?