The story so far....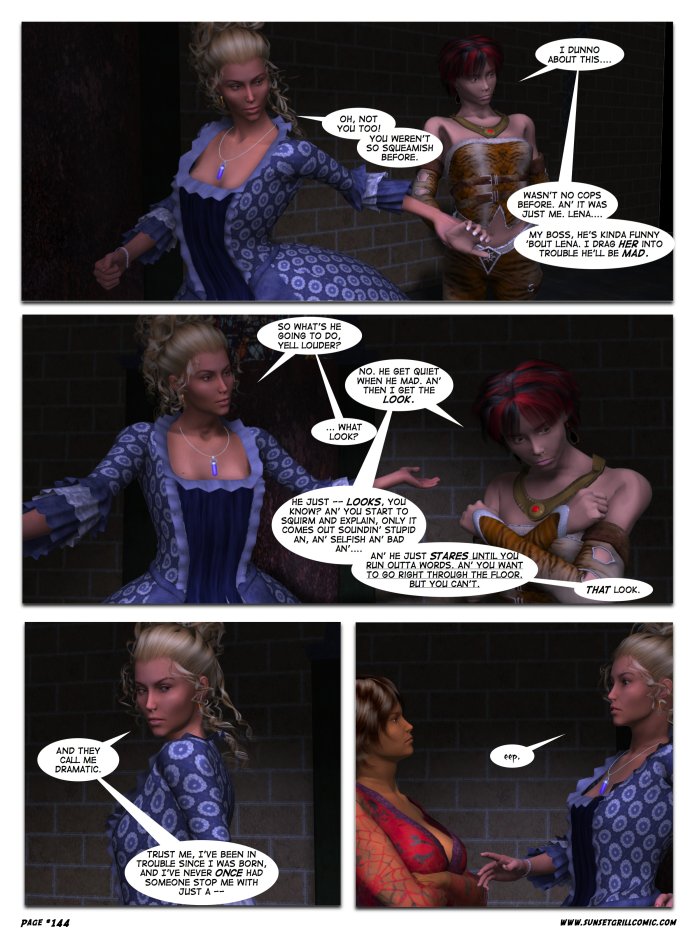 All comics were made using DAZStudio and ComicLife. For a full list of credits, click here.
show/hide today's script
Gabrielle
: I dunno about this....
Kris
: Oh, not you too! You weren't so squeamish before.
Gabrielle
: Weren't no cops before. An' it was just me. Lena... my boss, he's kinda funny 'bout Lena. I drag
her
into trouble he'll be
mad
.
Kris
: So what's he going to do, yell louder?
Gabrielle
: No. He get quiet when he mad. An' then I get the
look
.
Kris
: ...what look?
Gabrielle
: He just --
looks
, you know? An' you start to squirm an' explain, only it comes out soundin' stupid an, an' selfish an' bad an'... an' he just
stares
until you run outta words, an' you want to go right through the floor, but you can't.
That
look.
Kris
: And they call me dramatic. Trust me, I've been in trouble since I was born, and I've never
once
had someone stop me with just a -- eep.
When last we saw... Gabrielle - Kris


July 17, 2009
For those who missed the comments thread on Wednesday, the twitter feed has been replaced with a simple link, because people were responding to the twits in the comments and confusing other people. And the last thing this world needs is more confusion. You're all welcome to pop over to my twitter feed if you need a daily dose of inanity....




Halting State
by Charles Stross
It's 2012, and orcs have just robbed an Avalon 4 bank. A deadbeat programmer, a sword-wielding accountant, and a very bewildered cop must join forces to catch them.