December 13, 2016
Whelp, since Thanksgiving:
- My 92-year-old grandfather went to the hospital for a bleeding ulcer which required an emergency operation and 4 pints of blood, and;
- The tumor which was quietly, unknown to us, growing in my grandfather's sweet, loving, devoted dog reached the size where it began pressing on his stomach and heart. We tried to save him via surgery, but he didn't survive.
And
,
- This caused my grandfather, now in rehab, to slide into depression; we ended up needing family members with him at all three meals or he would refuse food (for some reason the nurses let him get away with this). He got stronger but not more mobile; we found out this past weekend he'd also been refusing physical therapy, so now one of us has to be there for that too, and,
- The parent of a co-worker died, requiring him to leave very suddenly and the rest of us to scramble and cover his work, and,
- My husband drove over a branch in the road which did some kind of insane kamikaze twist, taking out our radiator and AC condensor, knocking us down to one car for half a week and knocking us back around $600,
and
- I fell down my parents' stairs. Good news: managed to land on the meat this time, not the bone, so no major injuries. Bad news: I landed hard and I bruise easy, so I've been limping through much of the above drama with a starring role in Kat and the Amazing Technicolor Dreambutt. Small potatoes, but I really could have done without it.
I mean, there were a few other things in there, like my daughter's ballet recital and hosting a 5-hour party for over 20 people at my house and the wholesale customer who spent a day touring the plant and then placed a multi-thousand dollar order with bunches of extra logistics challenges and this morning's power outage and, I dunno, Thanksgiving or whatever, but honestly I don't remember any more, the Things just go on forever. even for me this is getting ridiculous. Also I think I am getting a cold.
Here is a comic. Someday, there will be more comic. I hope it will be soon.
Luckily there are loads more comics out there! I'm extremely behind on Spiderforest's Comic Of the Week event, but here are a few of them:
The Sundown Boys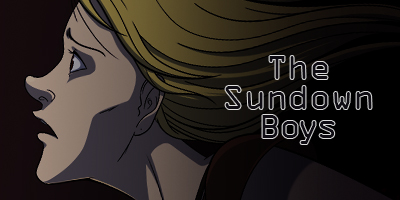 Nineteen-year-old Adrienne, heir apparent to the expansive DeSaule Organization, finds herself targeted by her adoptive father's only biological child, Edmund DeSaule. No longer safe in the only home she has, Adrienne flees the DeSaule Space Station in search of help. Brothers Leon, Robert, and Geoffrey Heron are the only people in the galaxy that Adrienne knows she can trust. Unbeknownst to them, Adrienne is hurling through space in their direction, and she's about to ask them for one hell of a favor.
Storm and Desire
An epic sci-fi/fantasy adventure comic about three women whose fates collide: Wynderia, a scientist-musician & interdimensional explorer; Lorelei, a cyborg translator & occasional singer; and Anjette, an intelligent weapon system & occasional sorcerer. Together they set out to learn the secret history of the multiverse...
And finally,
Stargazer's Gate
!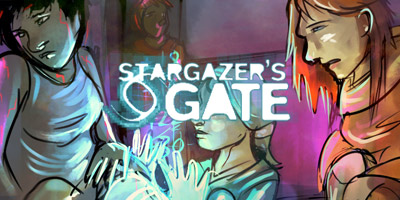 Atrina Vilanar discovers an alien civilization on the other side of a strange gate! Alien to Atrina, at least. People on the other side seem to recognize her. Back home, Leawyn still believes Atrina is alive, and will do anything to find her.